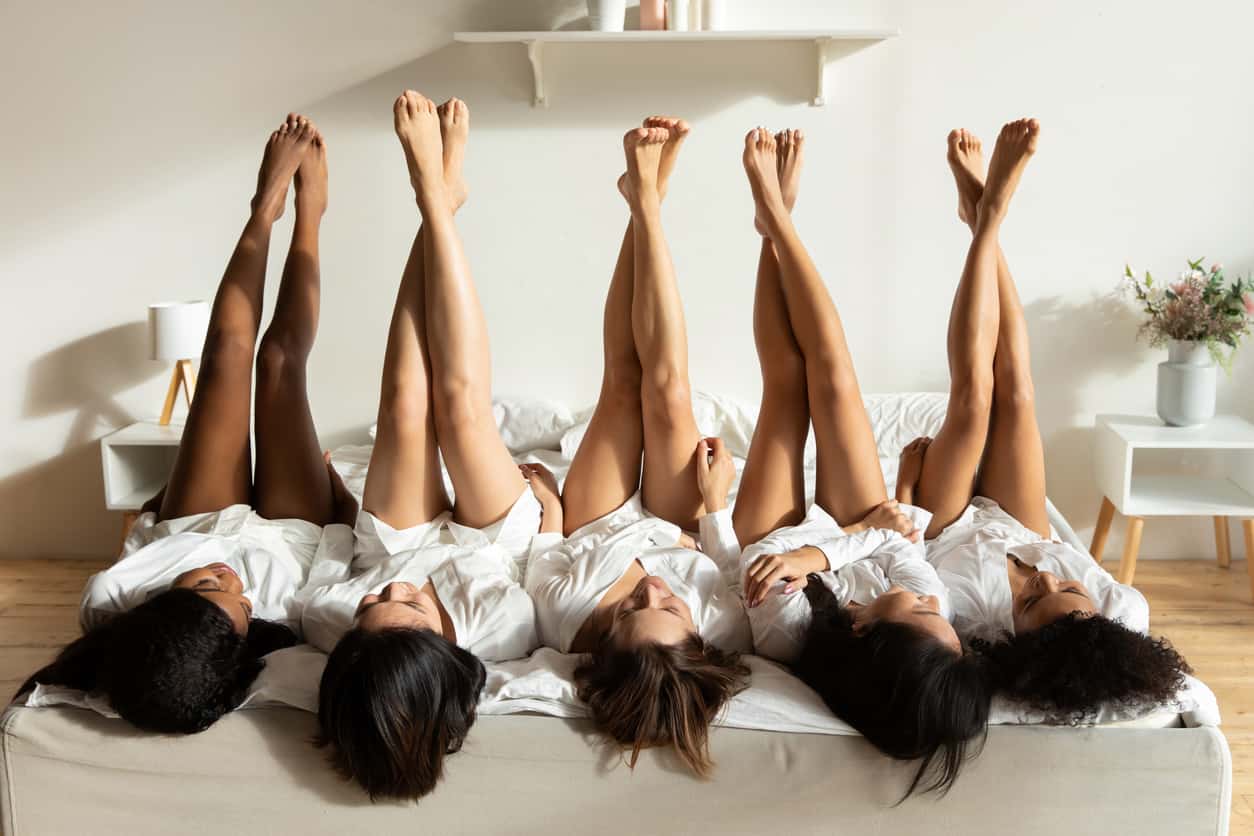 It's affordable too.
Tired of spending hundreds of dollars at the waxing salon? How about messy, complicated hair removal kits? Join the club! That's why I decided to get my skin "Kiss-ed!"
Kiss Waxing® At Home Strip Sugar® has developed the first All-In-One Mess-Free Hair Removal Kit for the body, face, and bikini – a new, healthy, and much less painful alternative to conventional waxing techniques. No more worrying about expensive salon waxing treatments or fussy at-home hair removal devices that are mediocre at best. Your skin is in for a real treat with Kiss Waxing®.
Kiss Is Different Than Your Average Waxing Kit
Founded by the global authority on body sugaring, Lina Kennedy, Kiss Waxing® has wholeheartedly changed the hair-removal game – their all-natural, vegan, water-soluble, and 100% sanitary strip sugar provides a clean alternative to waxing. Their soothing formula is made from just three simple ingredients: sugar, water, and lemon – everything you need to make lemonade, and now you can use it for highly effective at-home waxing too. There are no added fragrances either, ensuring your skin and nose won't get irritated.
Gentle on all skin types, Kiss Waxing® delivers smooth skin for up to four weeks. This all-natural formula is user-friendly, gentle on the skin and the squeezable bottle means no cross-contamination whatsoever. This means, unlike a razor, you can share Kiss Waxing® with family and friends (but you'll likely want this goodness all to yourself).
Fuss-Free and Indulgent
Waxing at home has never been this easy and comfortable thanks to Kennedy's proprietary Kiss Waxing® sugaring process, which is taught in beauty schools worldwide and has distribution in over 30 countries.
Here's how my skin now looks baby soft and hair-free with Kiss Waxing®. Follow these recommended simple steps for maximum benefits; they even provide an entertaining how-to video …
First, I prepped and cleansed my skin with Kiss's Skin Cleanser mist to help eliminate any dirt and oil.
Then, I sprayed their Skin Tonic to help open the hair cuticles.
After the skin is dry, I spread a thin layer of the Skin Powder which is fragrance-free (as are all of their products) and aluminum-free. The above steps ensure a smooth and less painful hair removal process.
Finally, we get to the hair removal part. The kit comes with Body and Face sugar bottles. The brand also offers a Coarse Hair Removal bottle. No matter what your hair removal needs may be, Kiss has you covered. Since I was focusing on my legs, I opted for the body hair option.
Heating and softening the strip sugar is a cinch – follow the directions and simply place the bottle in the microwave and heat in 10-second intervals until there is a honey-like consistency. Say goodbye to clunky and time-consuming melting pots, Kiss is ready in less than 1 minute. Once removed from the microwave, I checked to make sure the strip sugar didn't feel too hot to the touch. The squeeze bottle design makes the application user-friendly given you may apply it directly to the area without worrying about it dripping all over your body and your floors.
Now the fun part… after squeezing the strip sugar onto the area of the body being treated, use the edge of the reusable spatula to spread a thin layer "backward at a 45-degree angle in the direction of your hair growth" as they suggest. Kiss offers a supremely sanitary experience, as opposed to dipping a spatula in and out of a melting pot. I then placed a reusable cotton strip over the wax for the highly anticipated moment.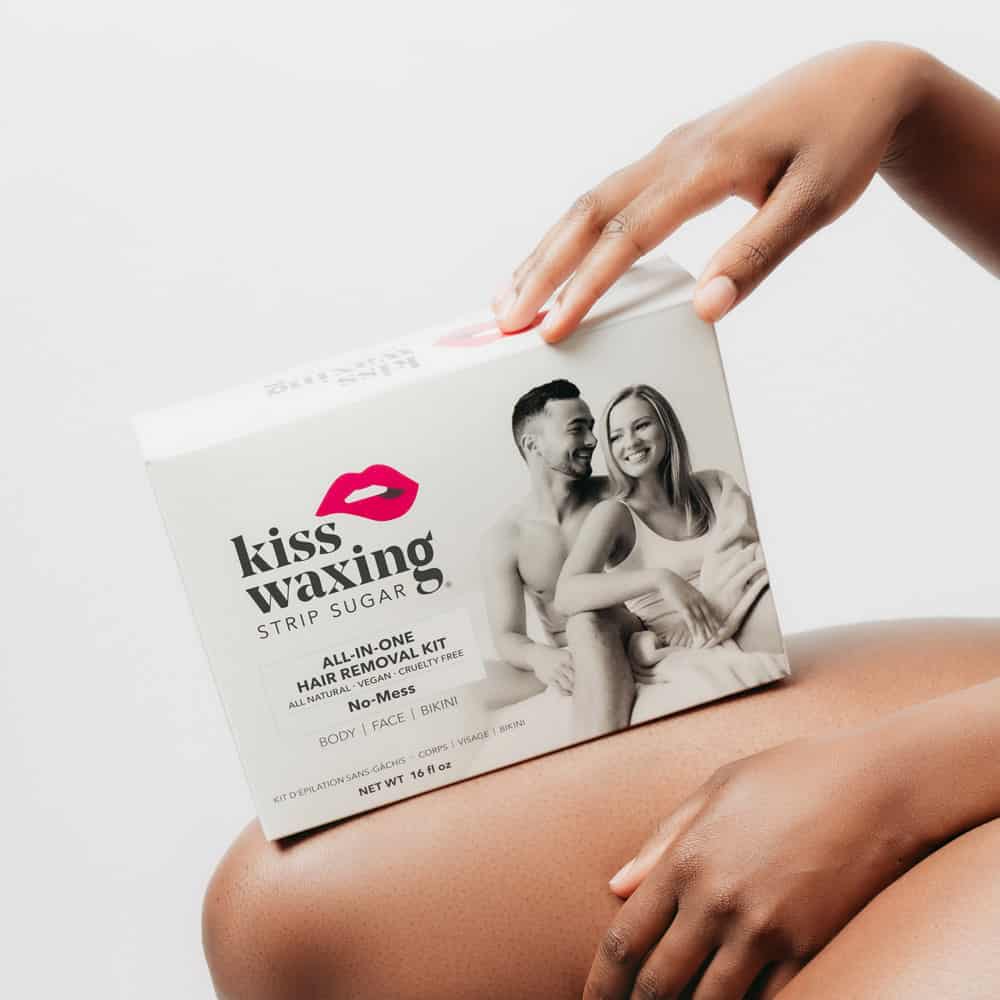 Nearly Painless
Just prior to removal I braced myself, given pulling off a waxing strip has historically been the part I don't look forward to. I kept my eyes half-closed and prepared to feel the typical burn and discomfort I usually experience while at the salon. But to my absolute surprise and utter delight – Kiss Waxing® didn't even make me flinch! This revolutionary treatment makes pulling the bandage off yourself quite tolerable.
The quality of hair removal was on par too. As someone with European roots and coarse, dark hair, I can attest that I was incredibly satisfied with the supple, smooth results Kiss Waxing® has joyously delivered. To complete the self-care experience, I generously applied the Skin Tonic to soothe the skin and reduce redness, followed by Alexandria's CC'me (Calm and Cool Me Cream) to calm the nerve endings and help reduce any possible discomfort, and finally, the Skin Moisturizer to add a boost of hydration. Kiss Waxing® truly makes you feel pampered – my skin looks and feels better than if I had been to a salon.
Sealed With A Kiss
If you're looking to up your hair removal game, I highly encourage you to try Kiss Waxing®. Not only was it a quick, mess-free, easy, and extremely effective hair removal method, but my body hair also grew back at a slower rate than usual and without any ingrown hairs. This certainly beats the 24 hours that a conventional shave lasts me. As I continue to use their products, I've noticed a tremendous change in the texture of my body hair as well, and it has been much easier to maintain smooth skin overall.
After using Kiss Waxing®, I won't ever go back to using a razor or spending hundreds of dollars at a waxing salon. Kiss Waxing's motto is, "You'll never forget your first Kiss." I'm thrilled to share they are absolutely right!